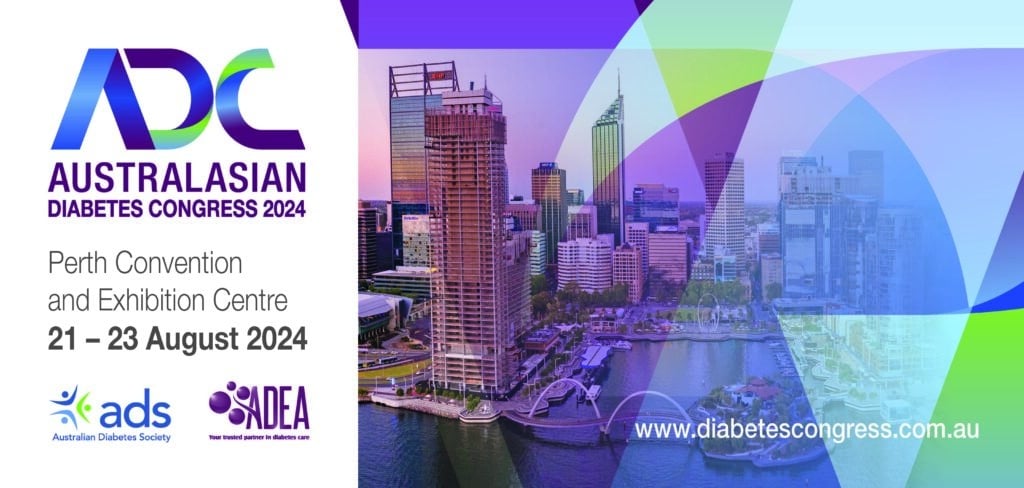 Dates: Wednesday 21 to Friday 23 August, 2024
Venue: Perth Convention & Exhibition Centre, WA
Registration:  Please visit the ADC website to register and for further congress information.
Australasian Diabetes Congress 2024 (ADS/ADEA Annual Scientific Meeting); 21-23 August 2024, Perth Convention & Exhibition Centre, WA 
The Australian Diabetes Society (ADS) and the Australian Diabetes Educators Association (ADEA) reaffirm their strong partnership as leaders in diabetes education, management and research. The exciting and innovative program will bring together national and international experts to promote the exchange of the latest clinical practices and cutting-edge research in diabetes. State-of-the-Art lectures, free communication sessions and clinical and scientific educational symposia, will all be appreciated by the 2024 attendees #24ADC
Notice of the ADS Annual General Meeting 2024
Notice is hereby given to members of the Australian Diabetes Society Limited to inform you that the 2024 Annual General Meeting (AGM) will be held in-person on Thursday 22nd August, 2024 from TBA (AWST). The AGM will be held during the Australasian Diabetes Congress (ADC) at the Perth Convention & Exhibition Centre. Please note that there will be no option to attend the AGM virtually this year. Please advise the ADS Secretariat in writing via email to admin@diabetessociety.com.au at least 48 hours prior to the AGM, if you will be an apology. All financial members (Paid subs to 30 June 2025) of the society are welcome to attend the AGM. We look forward to seeing you there!
Contact:
Level 35, International Tower One 100 Barangaroo Ave Sydney, NSW, 2000 T: 1800 193 405 E: adc@theconferencecompany.com
Conference Website:
You can access our Annual Scientific Meeting site at http://www.diabetescongress.com.au/or contact The Conference Company on
1800 193 405 for any further details regarding the Australasian Diabetes Congress #24ADC